This page is here to help match signatures with ATF examiner names to facilitate trend tracking.
NFA items such as silencers, short-barrel rifles (SBR), machine guns, short barrel shotguns (SBS), destructive devices (DD), and any-other-weapon (AOW) are approved or disapproved by examiners for the ATF. Some folks keep track of approvals for wait time trends, the quantity of examiners, and who (if anyone) is doing batch approvals.
If you have a picture of a missing signature or a new signature please email me: [email protected] or chat on reddit /u/handgunhero_dave.
For now this does NOT include amnesty Form 1 Examiners.
---
Angela / Augua Edwards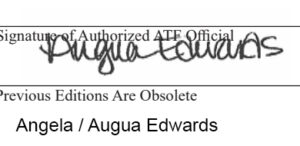 ---
Ashley Newcome [image missing]
---
Beth Palmer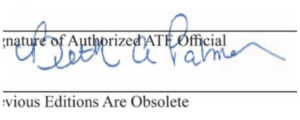 ---
Brian Martin

---
Carrie Fishel

---
Carol Ripley

---
Cathleen Sheppard

---
CBV / EBV / E. Bennett (?)

---
Christina Farris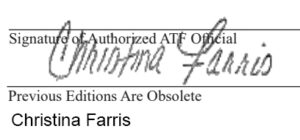 ---
Danela Gilbert

---
E. Ann Feltner [image missing]
---
Emile Payne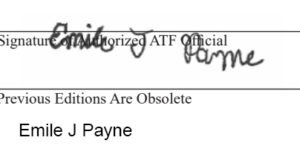 ---
Emma Louise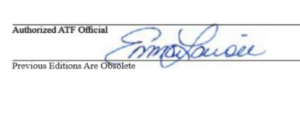 ---
Heather Huff [image missing]
Heather Zasko/Zaske [image missing]
---
Gregory McCluskey / G Stucky / G S Tuckey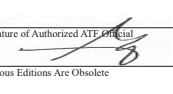 ---
Jacob Huff

---
Jessica Alebron (?) [image missing]
Jessica Hayes [image missing]
---
Jessica Mason

---
Katelyn Hardy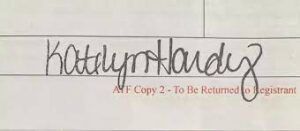 ---
Katlyn Saville

---
Keith D. Hammond

---
Kerri Hinzman [image missing]
Kristin M. [image missing]
Michael Emery [image missing]
---
Nathan Hartsock

---
Nichole Statler
---
Patricia Mays [image missing]
---
Phillip Pruitt

---
Rachel Ballard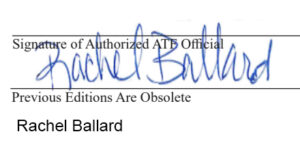 ---
R.K. Sinclair / Rebecca Sinclair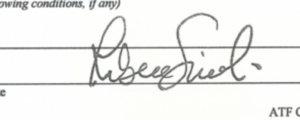 ---
Robin Chesek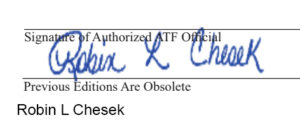 ---
Sara F [image missing]
Shannon D [image missing]
---
Tracey Campbell

---
Trish Bartles

---
Unidentified #5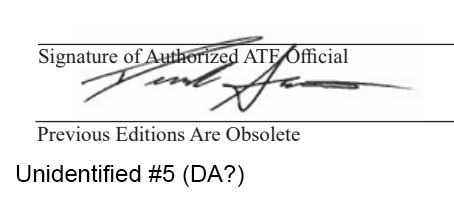 ---
Unidentified #6